2022 Honda Accord vs. 2022 Toyota Camry Comparison

For decades, two of the favorites among midsize sedan shoppers have been the Honda Accord and Toyota Camry. After undergoing a recent refresh, each of these long-time rivals now offer striking style and a host of new features. Since choosing between these two vehicles can be tough, Honda East Cincinnati has created this competitive comparison which takes a closer look at exactly how the 2022 Honda Accord measures up against the 2022 Toyota Camry. Once you see the results, we think you'll find the clear favorite.

Please scroll to see more
Vehicles
2022 Accord
2022 Camry
Better Performance (torque)

✓

Accord 1.5T 4-cylinder: 192 lb-ft @1600-5000 RPM (SAE net)


X

Camry 2.5-liter 4-cylinder: 184 lb ft @5000 RPM (SAE net)


✓

Accord 2.0T 4-cylinder VTEC: 273 lb-ft @1500-4000 RPM (SAE net)


X

Camry 3.5-liter V6: 267 lb-ft @4700 RPM (SAE net)
More Room for Passengers and Cargo

✓

Accord passenger volume: 105.6 cu ft (LX)


X

Camry passenger volume: 100.4 cu ft (LE)


✓

Accord cargo volume: 16.7 cu ft


X

Camry cargo volume: 15.1 cu ft
More Comfort and Convenience
Floor mats: Standard on Accord
$169 additional cost per set on Camry
Apple CarPlay™ and Android Auto™ integration: Standard on Accord Sport, EX & above
Not available on Camry
Navigation: Standard on Accord EX-L with Navigation and Touring Trims
Requires $1,870 Navigation Upgrade Package on Camry V6 models
Remote Engine Start: Standard on Accord Sport & above trims
Extra cost, dealer installed option on Camry
More Safety and Driver-Assistance Technology
Fog lights on Sport & above trims
Not available on Camry
Adaptive Cruise Control with Low Speed Follow: Standard on all Accords
Not available on all Camry Trims
Traffic Sign Recognition: Standard on Accord
Not available on Camry
Honda Performance
Right from the beginning, the Honda Accord stands above the Toyota Camry in several key areas. In terms of performance, the Accord shines with greater torque than the Camry when looking at both available engines. If you're searching for maximum interior comfort the Accord also is the favorite, delivering greater passenger room and greater cargo room than the Camry. Additional comfort and convenience features, such as fog lights, adaptive cruise control, and traffic sign recognition, are offered on the Accord. Camry shoppers will not have access to any of these features.
Floor mats are standard equipment on the Accord while Camry shoppers will have to pay an extra cost. Similarly, navigation is included as standard on Accord EX-L with Navigation and Touring trim levels, whereas the Camry requires a costly $1,870 Navigation Upgrade Package to receive the same equipment. Apple CarPlay™ and Android Auto™ smartphone integration is included as standard on Accord Sport, EX, and above trims. Camry owners will be disappointed to learn that both features are not available on their vehicle. Remote Engine Start, which comes in handy on those chilly winter mornings, is standard on the Accord EX and above trims. This useful feature is an added cost, dealer installed option on the Camry.
2022 Honda Accord LX vs 2022 Toyota Camry LE
| 2022 Accord LX | VS | 2022 Camry LE |
| --- | --- | --- |
| $26,120 | Base MSRP[1] | $25,395 |
| $1,015 | Destination Charge[1] | $1,025 |
| 30 | City Fuel Economy Rating[2] | 28 |
| 33 | Combined Fuel Economy Rating[2](City/Hwy) | 32 |
| 1.5-Liter, 4 Cyl CVT | Engine | 2.5-Liter, 4 Cyl 8-speed |
| [email protected] | Torque | [email protected] |
| 105.6 | Passenger Volume (cu ft) | 100.4 |
| 39.5 | Headroom (inches) | 38.3 |
| 42.3 | Front Row Legroom (inches) | 42.1 |
| 58.3 | Front Shoulder Room (inches) | 57.7 |
| 40.4 | Second Row Legroom (inches) | 38 |
| 56.5 | Second Row Shoulder Room (inches) | 55.7 |
| 16.7 | Maximum Cargo Volume (cu ft) | 15.1 |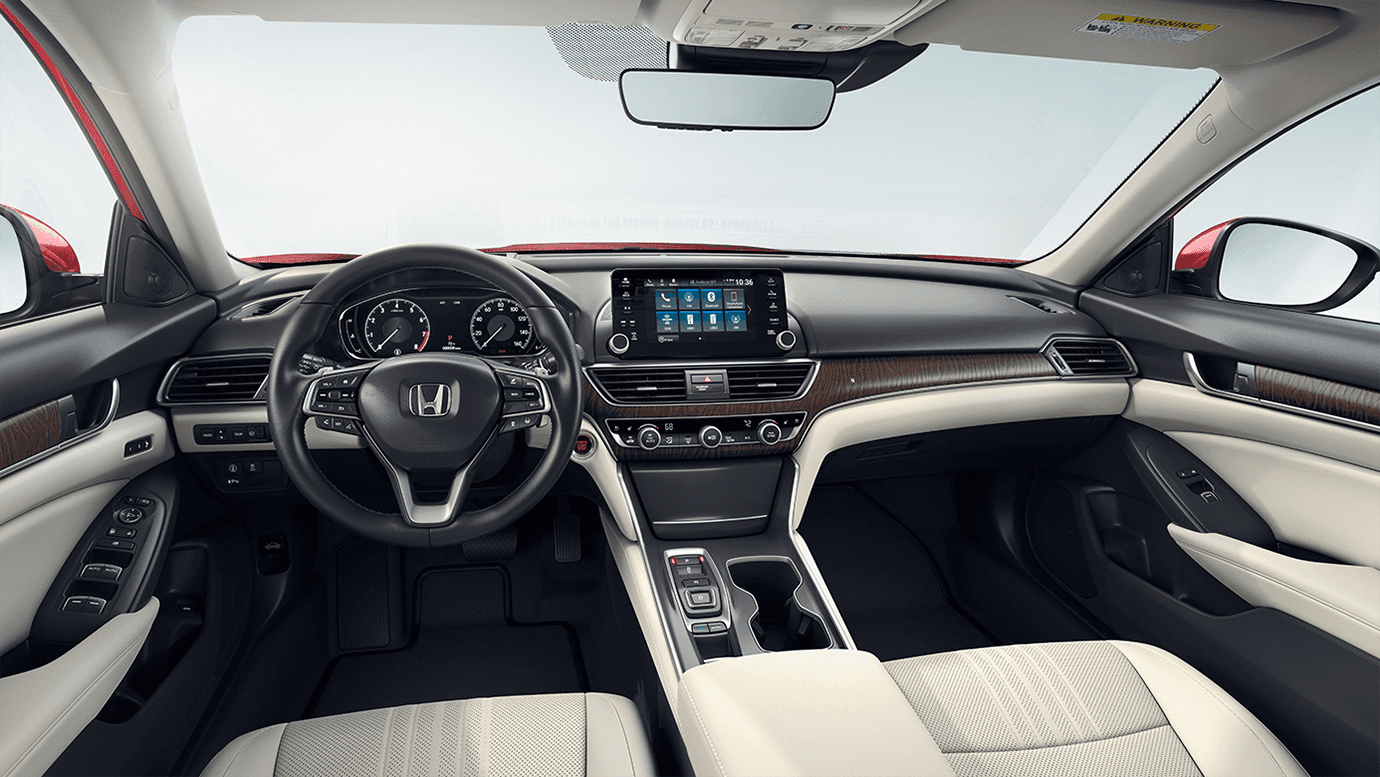 Honda Value Comparison
If we take a closer look at value, the 2022 Honda Accord LX has a similar starting MSRP[1] to the 2022 Toyota Camry LE, despite offering more space, better performance, and additional standard equipment. When similarly equipped, the Toyota ends up costing more than the Accord. These savings also are a factor when stopping to fill up at the pump. The 2022 Accord LX offers greater city and combined fuel economy ratings than the Camry LE[2]. Accord owners will also enjoy greater torque without sacrificing on efficiency.
When comparing interior dimensions, the Honda Accord continues to stand above the Toyota Camry. As a whole, the Accord LX provides greater passenger volume and cargo volume than the Camry LE. Front passengers are sure to appreciate greater headroom, front row legroom, and front shoulder room while rear occupants enjoy greater second row legroom and second row shoulder room. Perfect for extended road trips or a quick drive through the country, the Honda Accord is the clear favorite over the Toyota Camry.
The Experts Choose Accord
Honda topped the competition at the 2022 Kelley Blue Book Best Buy Awards[3], with the Accord earning the top spot in the Midsize Car Segment.
The 2022 Honda Accord enters the new year by being named on Car and Driver's 10Best Cars list for 2022[4]. This marks the 36th time the Accord has made the prestigious 10Best list.
The Accord isn't just better than the Camry. This is a mass-market car selling at a keen price—and a better-driving one than many more expensive and pretentious performance cars. It's the unquestioned victor here and everywhere else mid-size, mid-price vehicles may roam" — Car and Driver
The Honda Accord, however, just seems to be smarter, sharper, and more user-friendly, and as a whole, offers a more complete and cohesive package. Add in the fact that the style will age more gracefully, and it's easily the best car in this segment." — AutoGuide.com
Simply put, Toyota built a better Camry, but Honda built a better car." — MotorTrend
Honda East Cincinnati invites you to come experience the exceptional value, striking style, and advanced technology features found on the impressive 2022 Honda Accord.
[1] MSRP excludes destination charge of $1,015. Excludes tax, license, registration, and options. Dealer sets own prices.
[2] 30 city/38 highway/33 combined mpg rating for LX and EX-L. 29 city/35 highway/32 combined mpg rating for Sport and Special Edition 1.5T. 22 city/32 highway/26 combined mpg rating for Sport and Touring 2.0T. Based on 2022 EPA mileage ratings. Use for comparison purposes only. Your mileage will vary depending on how you drive and maintain your vehicle, driving conditions and other factors.
[3] 2022 Kelley Blue Book Best Buy Award – Midsize Car Segment. More information can be found at: kbb.com
[4] Car & Driver Magazine – January 2022. More information about the Car & Driver "10Best" awards and the winning Honda vehicles can be found at: caranddriver.com